Sometimes, data that is received via multiple datasources can deviate.
Even though we send all price points received via various datasources to you via the Pricewatch Export, we prioritize these datasources to show this in the Product & pricing information screen.
Tip - This prioritization is also important to consider when creating pricing actions.
Additionally, this prioritization is important to account for when creating pricing actions.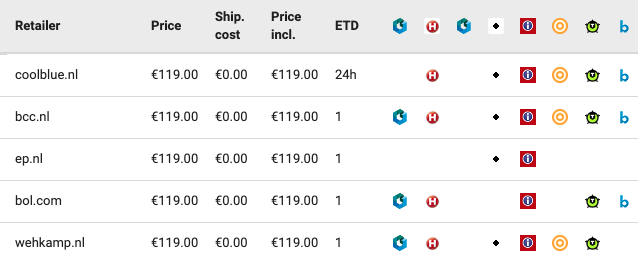 As you can see in the above screenshot, the pricing information we receive for these retailers originates from multiple datasources. The price shown in the product overview is the price with the highest priority. For example, the selection of coolblue.nl as a competitor shows the price of 119 because this is the value we show in the Product Overview.
The priority of the datasources is as follows:
| | |
| --- | --- |
| Datasource | Priority |
| empty slot reserved for direct scraping | 1 |
| Kieskeurig | 2 |
| Tweakers | 3 |
| Hardware.info | 4 |
| Vergelijk | 5 |
| Google Shopping | 6 |
| Idealo, Amazon, eBay | 7 |
| Billiger | 9 |
Note - The empty slot with priority 1 is reserved so we can give your custom datasource the highest priority. When setting up Direct Scraping as a datasource, we can decide whether we would like to give this datasource priority over other datasources. Please reach out to your CSM or to customer support to discuss these possibilities.