Changing user settings in Omnia
The user setting functionality lets every user change his or her own password. This feature ensures that only admin users will have to have access to the user management settings. Via this way only admins can add or remove users, and all other users can change their own password.
Changing a password in Omnia is easy. Every user can access the user settings by clicking the name of the portal in the top right corner. This will open up a new menu.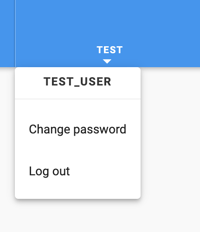 Via this menu you can change your password, which leads you to the following pop-up. Fill in your current password, new password, and a confirmation of your new password, then click "Apply" to save the new password.