Adding, removing, and defining access levels is very easy in Omnia.
User management screen
Omnia will appoint an Organization administrator who will have access to the user management screen. It can be found in the Settings. Naturally, users without Organization admin permissions won't have access this screen . If you need additional Organization admins, please contact your customer success manager or our customer service.
In the user management screen all active users, inactive users and pending invitations are shown. You can edit existing users and/or invite new users.

Edit existing users
Every user has two icons on the right.

| | |
| --- | --- |
| | This icon is the Edit user button. Here you can change permissions per user or change to what portals the user should have access to. |
| | If a user is an active user you will see this deactivation button. By clicking this button you can deactivate a user temporarily or permanently. The user will be moved to inactive users section of the screen. |
| | If a user is an inactive user you will see this activation button. By clicking this button you can re-activate an account of a user the was set to inactive. The user will be moved to active users section of the screen. |
Invite new users
After clicking on the + button in the bottom right corner the pop-up below will appear. Inviting a user can be done in three steps:
1. Enter an email address
2. Select the portals within the organisation that you would like to give the user access to
3. Select the permissions the user will have. This can be the same permissions for all portals or you can give specific permissions per portal.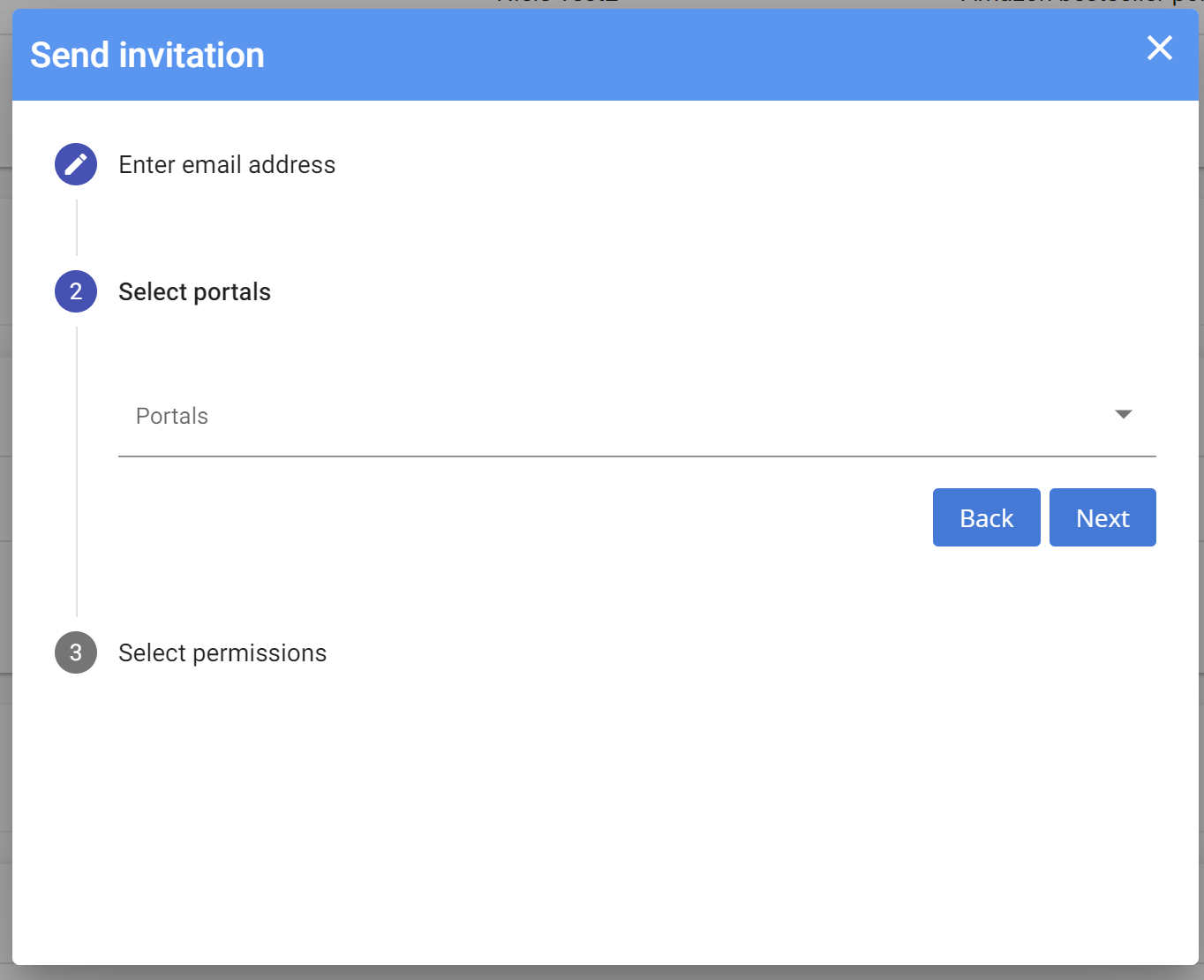 After clicking the Send button the new user will receive 2 emails. One with a link to the registration page and the one with an activation code. Both are needed to activate the account. The registration email includes a redirect to the registration page (see screenshot below). The user is now asked to fill in the activation code (included in the second email), first name, last name and a password.
After filling in all information correctly and clicking on register, the account is activated and you'll be redirected to the multi-portal login screen.