Here's what's new in Omnia
December 2021
User experience changes to increase conformity and consistency
You might have noticed quite some changes in the portal. This month we started to identify inconsistencies and unclarities in the portal. We have done several changes in the portal to improve the usability of the portal. These changes will make it easier for new users to start using Omnia and will make the experience for the users more consistent. Some of the improvements that have been implemented:
Adjusted design user management
Changed add buttons on all pages to be more specific and clear
Adjusted design Dashboard page to have more focus on the mainly used parts of dashboard and remove unused parts of the dashboard
Consistency in the color usage in the portal
Consistency in icon usage in the portal
Improved alignment in configure feeds page
Changed the 12-hour clock to 24-hour clock
Migrating datasources to Patagona
This month we have migrated more data sources to Patagona:
Google Shopping Netherlands
Google Shopping Germany
Google Shopping France
Google Shopping United Kingdom
Idealo Austria
November 2021
Migrating datasources to Patagona
After the acquisition of Patagona we have started migrating data sources to Patagona. Meaning that the scraping and delivery of the data of the migrated data sources is completely in-house. Switching these data sources to Patagona has improved the number of offers we deliver significantly. This month, we have migrated:
Google Shopping Switzerland
Google Shopping Belgium
Google Shopping Austria
Idealo Germany
September 2021
Cloud migration to Azure
We have migrated the full application and all processes to the Cloud. Migrating to the cloud will bring many advantages, some important advantages are:
Scalability: We can scale much faster if needed to enhance performance of the portal.
Reliability: the cloud allows us to keep the runs more consistent.
Easier to restore data when experiencing any issues.
Portal improvements:
Validations added in Pricewatch export screen
Improved the responsiveness of the Preview screen in Reports
August 2021
Single-Sign-on
Single-Sign-on (SSO) allows the organization to connect the authentication of Omnia directly to your company's Active Directory, which means that you have full control over who can have access to Omnia. You can easily invite your colleagues to Omnia and collaborate, and you can quickly close access for colleagues that should not have access anymore.
An additional advantage as an individual user is that once you are logged into your company environment, you are automatically authorized to login to Omnia and you can login with just one click.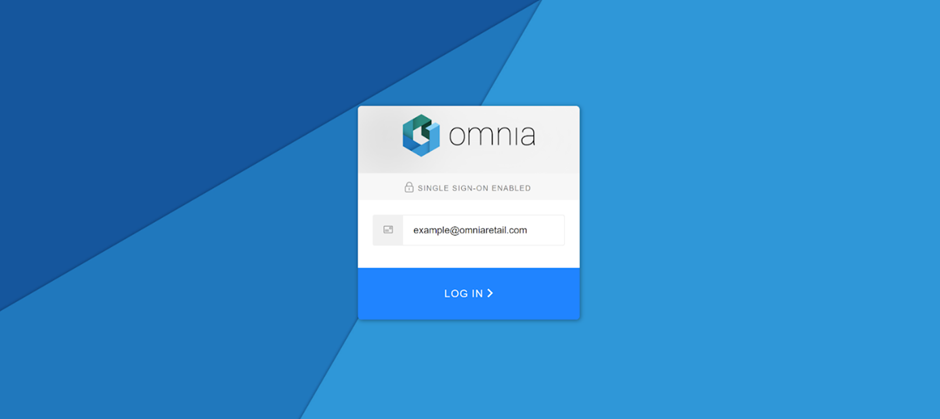 June 2021
Market Conditions

We have added an extra layer to your business rules, one that will enable you to take into consideration the market fluctuations. Market conditions allows you to take the number of competitors, your current position vs competitors and your price vs aggregated market data (e.g. average price, most occurring price) into account.
May 2021
Search bar for field selection
When having many mapped fields it can be a hassle to find the field you want to select. With a search bar in every field selection (filter, product strategy etc.) this will become a lot easier to do. We have now added this search bar in the dropdowns of the business rules and will be added to more field selections in the coming weeks.

March 2021
User management completely renewed
After the launch of Multi-portal, we have renewed the complete user management within Omnia. Our new user management page makes sure that admins within Omnia have:
A complete overview of all users within the organization
Permissions for all portals managed in one screen
Better workflows to invite, edit, deactivate and delete users
Additionally, we have added a new and fully automated onboarding flow for new users, which will make it very easy for new users within an organization to get an account and start using Omnia.
February 2021
Multi-portal
After a successful beta, we are now live with multi-portal. Multi-portal renews the authentication and user management within Omnia completely. Multi-portal allows you to login only once and have direct access to all the portals, that you have authorization to, within your organization. Switching between your portals will only take seconds from now on.

Using your email address within this new user management also allowed us to add a 'forgot password' flow, so you can now easily request a new password if you forgot your password, without reaching out to our support team.
December 2020
Save date range of product history graph
If you're analyzing a certain period of time, you don't have to select the date range for every product anymore. Now you can just select a date range and Omnia will remember the date range. After logging out of the portal the date range will automatically be reset to 30 days.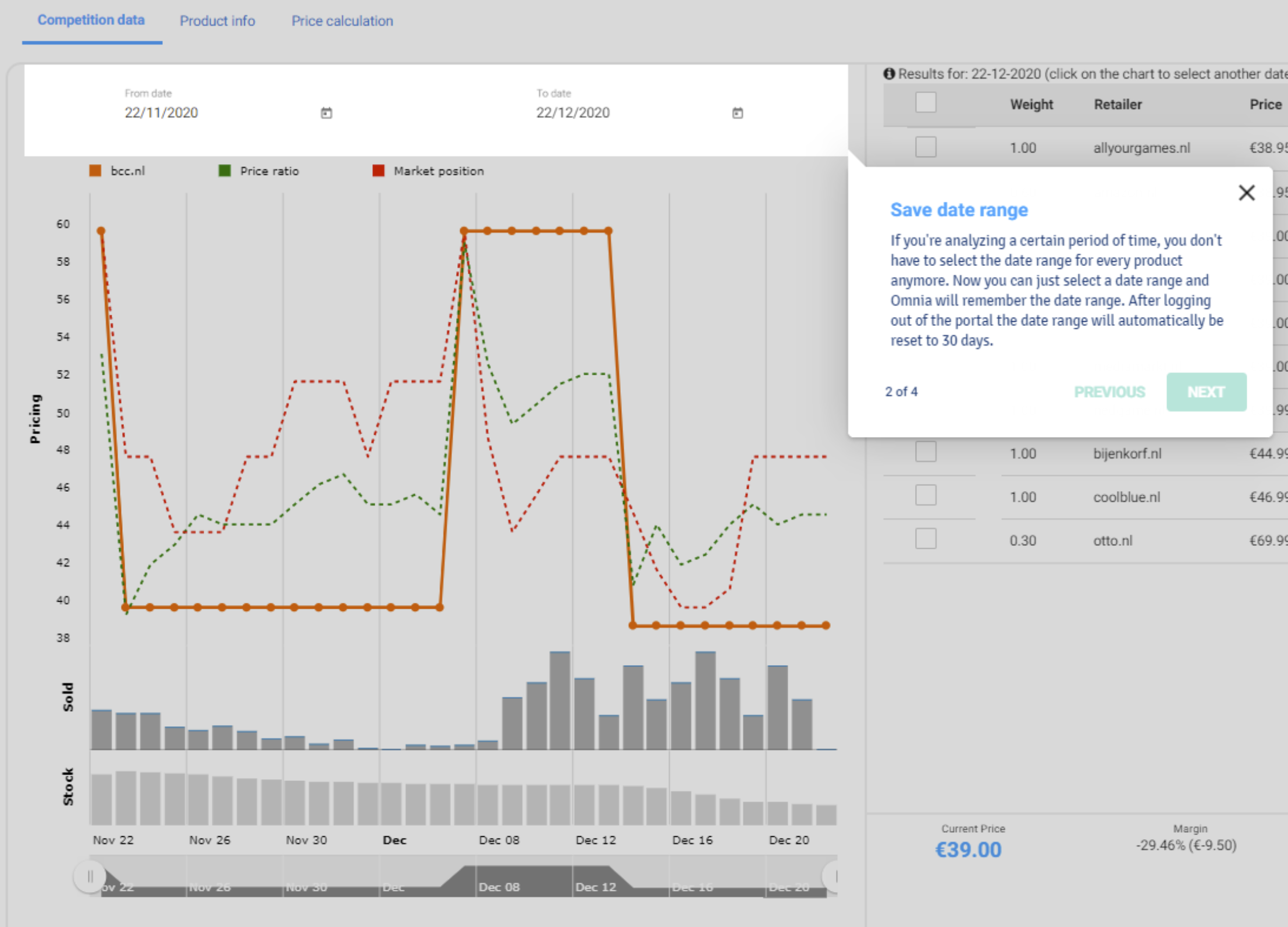 Select all button for competitors in graph
Sometimes you just want to see price developments over time for all of your competitors. The new select all button allows you to select all competitors and add them to the graph in just one click.
November 2020
Changes to shipping costs in Google Shopping data
In the past week, Google has updated its Shopping layout for various countries (e.g. NL and DE). In the new layout the shipping costs are not displayed separately anymore.
To still provide you with shipping costs information, we updated our logic. We now calculate the shipping costs based upon the total price and the item price.
For countries where the shipping costs are available, we will keep using the displayed shipping costs. Once Google decides to update this layout too, we will automatically fall back on the calculated values so all your dynamic pricing calculation can continue without interruptions.
If you have any questions regarding these changes please don't hesitate to reach out via customerservice@omniaretail.com.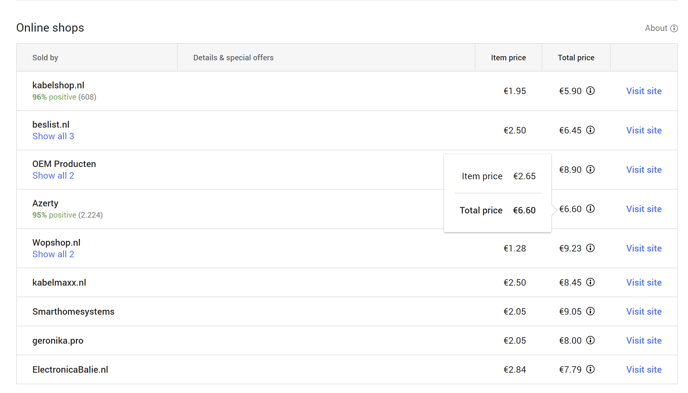 Pricing run and portal speed upgrade
Our development team has implemented various technical improvements to improve the processing speed of our data. As you might have noticed, the exports arrive on average around 20-30 minutes earlier than in previous months. There are also fewer fluctuations in these export times due to the improvements to our data processing flows. In addition to our pricing runs, we've also focused on improving the loading speed of our portal. The speed has already improved significantly. Every area of the portal benefits from this improvement, but it is most noticeable during login and at the filtering drop downs in the product overview. We do however still see some fluctuations and we aim to have those resolved over the coming weeks.
Reminder market conditions beta
As introduced in the previous newsletter, we have a great new functionality coming up in beta: market conditions. Thanks to everybody who subscribed to the beta and already provided great input!
We still have a few spots left. So if you are interested in using the market conditions in an early stage, please do subscribe to the beta. We value your early feedback immensely.
For more info and the link to the beta subscription, see October update below.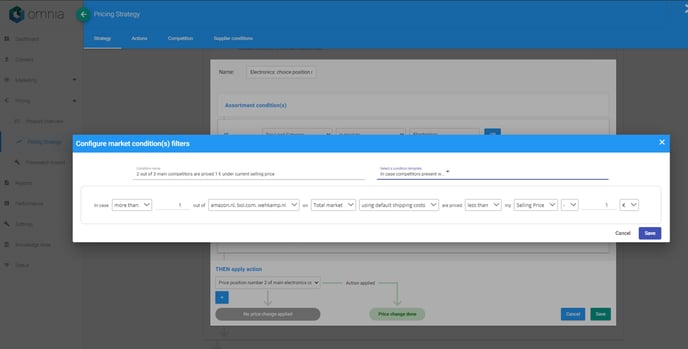 October 2020
Beta: Reach the next pricing strategy level with Market Conditions
At Omnia, we're proud of the flexibility of our pricing strategy. We want our customers to be able to set up all desired strategies within a few clicks.

With increased dynamics in the market, we did notice that there is a growing need to set up more delicate strategies. A strategy where you don't respond to every price change in the market, but only if multiple of your main competitors changed their price.

To accommodate this need, we're introducing a brand new building block for your pricing strategy: market conditions.

Market conditions are an additional check within your pricing strategy. It will not only allow you to select a part of your product assortment (the current IF statement), but also only apply the pricing action if one (or a combination) of the following is true:
In case [at least/less than/exactly] [X] competitor(s) out of [competitor list] are present
In case [at least/less than/exactly] [X] out of [competitor list] are priced [higher/lower/equal] [in/ex shipping] than [connect field] [+/-] [x] [%/€] (e.g. my current selling price)
My [connect field] (e.g. my current selling price) is [X] [%/€] [lower/higher] than [lowest/highest/average/most occurring] price [in/ex shipping] of [competitors]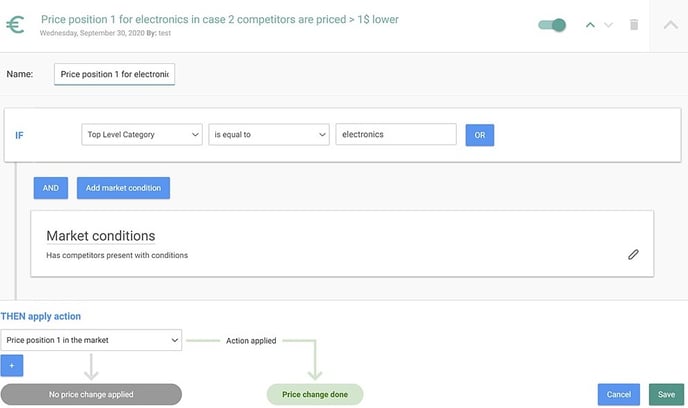 Strategy example:
If the category "Electronics" (current If statement)
And in case at least 2 out of [Amazon.com, Wallmart.com, Bestbuy.com, Target.com] are priced lower than my current selling price - 1$ (new market conditions)
Set to lowest price point of competitors [Amazon.com, Wallmart.com, Bestbuy.com, Target.com] (pricing action)
The market conditions are currently in their last stage of internal testing and will become available in a closed beta for a selection of customers to try out first.
If you'd like to participate in the beta program, please subscribe via the link below so we can reach out as soon as it's ready. We'd love to hear your feedback, so we can ensure it matches all required scenarios.
August 2020
Sorting, filtering and searching on the pricing action page
Never lose time to searching for a particular pricing action anymore! It is possible to search for a particular action via the search bar, to filter actions of a particular shop and you can sort on all columns of the table (e.g. on the name of the pricing action).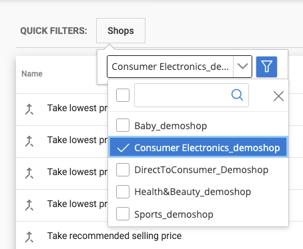 Sorting and searching on competition page
Similar to the action page, we also implemented sorting and search functionality in the competition page. You can now sort on the names and weights of the competitors or search for a particular competitor.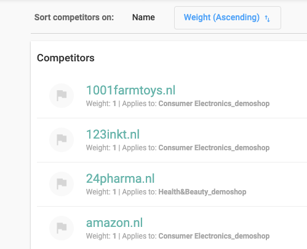 JSON reports over HTTPS
Reports can now also be exported in JSON format over HTTPS. Simply press the "Copy URL" button in the report preview tab and use that URL in your external systems to call for the latest updated data.


Upgraded our front-end technology to Angular 10
A less visible upgrade, but the most important one: we upgraded our front-end technology to the newest version of Angular. This version gives us more technical possibilities, better stability for different browser versions and allows us to use the latest front-end components to develop our portal faster.

Small other improvements:
For those of you with multiple shops: the Pricing Strategy page now reminds the last shop you selected, so that it takes less clicks if you are modifying the strategy of a particular shop.
Various small bug fixes and improvements.
July 2020
Send report to multiple email addresses
In the latest product update we have enabled the option to add multiple email addresses to the export settings of a report. This means that it is not necessary anymore to create multiple reports when you want to send these to multiple people. Additionally, you can now enable both export via email and (S)FTP for one report at the same time!
You can add the multiple e-mail addresses in the export settings page of each individual report:

Improved field mapping screen
The mapping fields within Connect section and the Report section have been redesigned! With this redesign you can easily distinguish between the following types of text in a mapping formula:
- Formulas: all formulas that you use in a mapping field are automatically shown in red
- Text: all text values between single quotes are shown in green
- Selected fields: all valid selected fields from your feed or the import mapping section are shown in blue.


The mapping screen improvement should help you better use the customization functionality of Omnia without any messy fields.
Tip! You can also add ENTERS in a mapping field to ensure that a formula is better readable
June 2020
New Pricewatch Export screen
We redesigned our Pricewatch Export settings screen. Using this new screen, you can easily switch receiving the file per e-mail or on (S)FTP. Also, you can easily add recipients or change the configuration settings on this page! Another new functionality is the ability for everyone to include a file prefix, so all files will have your preferred naming prefix. For more information about this functionality, please refer to this Knowledge Base article.

May 2020
New pricing action template: adjust price to connect field
Another pricing rule template has been added to the pricing actions. With the "adjust price to connect field" it is now easier to override any calculated price advice with a price that is imported into Omnia.

Please read our Knowledge Base article about hard pricing actions for a more detailed explanation!
April 2020
Data source expansion:
We expanded our data source network with a whopping 9 new comparison shopping engines.
New data sources
Amazon NL
Allegro
Bol.com
Cenowarka
Ebay
Geizhals
Medizinfuchs
Skinflint
PriceRunner
Looking to expand your data coverage? Please look at our Knowledge Base article for a complete overview of all the data sources available.

New pricing rule
As promised in the last monthly update, we have released an additional pricing action:
"Adjust to price position in case connect field (e.g. margin) allows it"
For more info and a complete overview of the available pricing actions, please take a look at the Knowledge Base articles for hard pricing actions and limit pricing actions.
Small other improvements:
Dynamic Pricing has evolved a lot over the years, and so has the terminology that is used. We gave the full portal a thorough cleanup so that all terminology is aligned with the latest and newest dynamic pricing trends.
All currencies are consistent with the international activities of our customers. British customers can now use GBP symbols instead of Euro symbols.
We made it more explicit that a password change is not required when changing user access rights.
We also added multiple validation fixes on input variables so that misconfigurations are less likely to happen.
Popularity score
The Popularity Data Service is a new add-on to your Pricewatch Export that shows the product popularity scores for different price comparison websites in NL and BE. It's designed to give you a better idea of what's popular in the market so you can make more informed strategic choices when it comes to buying, marketing, pricing, and more. Please read more about this new service on the popularity scores page.

Quick filter
The quick filters functionality has been expanded with a filter to filter exports going over email or those going over (S)FTP. Via this way, you can quickly identify which feeds are connected to your (S)FTP or email. More information about this on the quick filters page.

Pricing action templates expansion
Some of our pricing templates include the possibility to adjust the outcome by a certain percentage or value. For example, you were able to adapt your price to a competitor's price minus a certain value. The adjustment, however, was not enabled for all pricing action templates. This product update enables this adjustment for the additional templates:
Set equal to most occurring price point of competitors
Set price equal to average of competitors
Cap recommended price point to connect field
Tip - the update of the "cap recommended price point to connect field" template enables you to cap your prices to margin prices, without having to create all separate margin fields in your import mapping. Please reach out to your CSM or to customer service if you would like to know how this product update can help you in simplifying your Omnia settings!
Please read more about the hard action and limit action functionalities in the pricing strategy section of our Knowledge Base.
New pricing action template - Adjust to price position in case connect field allows it
As this was the most requested pricing expansion, we are happy to announce that within two weeks we will add another template to the pricing action templates.
This new pricing template will allow you to adjust to a certain price position in case a connect field (like your margin) allows it. So you can tell Omnia you want to be priced on price position number 2 among your main competitors. But if that price position number 2 is lower than your margin, we will pick price position number 3, 4 etc.
This gives you the possibility to find a perfect balance between your price competitiveness and your margins, and will make sure that Omnia will never price too aggressively.


This rule is under final testing and will become available once all tests are completed. For more information about this rule, please take a look at the knowledge base article about hard pricing actions.
March 2020
Quick filters for an improved import preview
Quick filters are now available in the Import Mapping, Pricing Strategy, Reports, and Reports overview that let you see only active fields and/or reports. Additionally in import preview you'll now see an overview of all imported fields, as opposed to every field possible.

Updated password settings for better user management
We've updated the password settings to give individual users control of their passwords without needing administrative access. Users can now change their own passwords under their User Profile in the top right corner of the portal.
READ MORE

Excel downloads of the product overview
You can also now get more out of your product overview screen in an easier way. Previously you could only download reports as a CSV file. Now you can download the Product Overview table directly to a Microsoft Excel file for easier analyses.
READ MORE

Improved default naming for report downloads
Say goodbye to generic report download names. We've updated the settings to give you a more accurate default report name when you download reports and marketing channels.